Christmas 2021 countdown and other festive fun
Published on 06 December 2021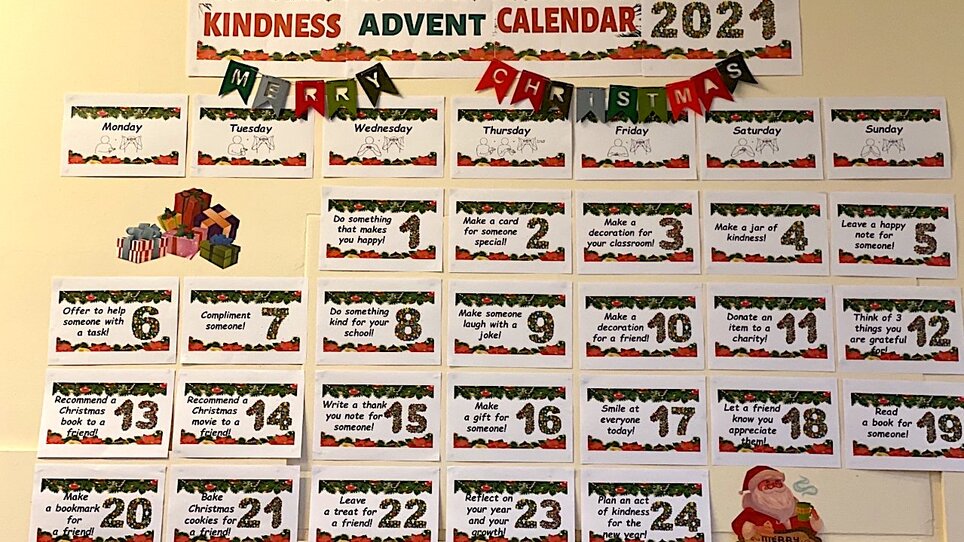 Advent countdown at Sybil Elgar school
We are all looking forward to the festive season and have started the countdown with a special advent calendar that leads on from our Antibullying week theme 'Just one Kind Word'.
Join us in the tradition
By completing an act of kindness during the days before Christmas, we can all make someone else feel special during this festive period.
We will reveal what acts of kindness we will be focusing on for the week ahead!
Sybil Elgar Advent Calendar
1 Dec
Do something that makes you happy
2 Dec
Make a card for someone special
3 Dec
Make a decoration for your classroom
4 Dec
Make a jar of kindness
5 Dec
Leave a happy note for someone
6 Dec
Offer to help someone with a task
8 Dec
Do something kind for your school
9 Dec
Make someone laugh with a joke
10 Dec
Make a decoration for a friend
11 Dec
Donate an item to charity
12 Dec
Think of 3 things you are grateful for
13 Dec
Recommend a Christmas book to a friend
14 Dec
Recommend a Christmas movie to a friend
15 Dec
Write a thank you note for someone
16 Dec
Make a gift for someone
17 Dec
Smile at everybody today
18 Dec
Let a friend know you appreciate them
19 Dec
Read a book for someone
20 Dec
Make a bookmark for a friend
21 Dec
Bake Christmas cookies for a friend
22 Dec
Leave a treat for a friend
23 Dec
Reflect on your year and your growth
24 Dec
Plan an act of kindness for the new year
Sybil Elgar Santa
Christmas jumper day at Sybil Elgar
What is Christmas Jumper Day?​
Christmas Jumper Day is a fundraising event held each year by Save the Children.​
It's a great chance to enjoy some festive fun while raising money to help children in the UK and around the world.​
The first Christmas Jumper Day was held in 2012 and millions of pounds have been raised just by pulling on a sweater!​
This year, Christmas Jumper Day is on Friday 10th ​December 2021.​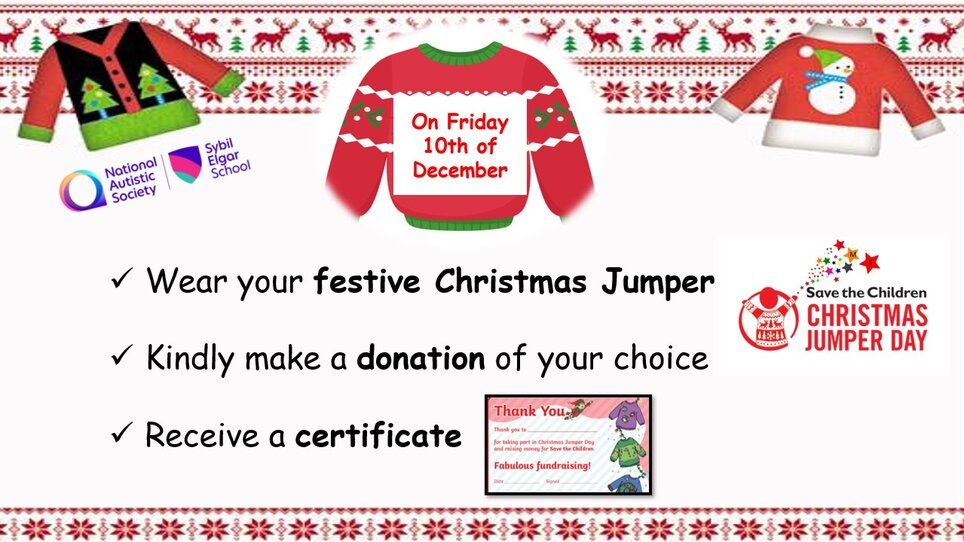 Christmas items for sale
Please see our Christmas gifts catalogue for extra special handcrafted Christmas items for sale.
We celebrated the official opening of the Sybil Elgar School Business Enterprise venture on 8th December with a ribbon cutting ceremony. Our Deputy Principal cut the ribbon and inaugurated the enterprise. She addressed the students and praised them for their handmade Christmas items. Students are encouraged to make more items and develop skills to keep business enterprise running and flourishing. The Chair of the student council delivered a speech and said that they will make quality products and reinvest the profit in Design Technology. The aim of Business Enterprise is to develop skills such as sewing, cooking, cutting, designing and problem-solving skills. It was a joyful moment for all of us.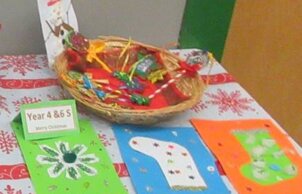 Christmas tips for autistic people and their families
The NAS published useful information about the Christmas season and how it may impact people in different ways.
Here you can find some tips about preparing, decorations, schedules and presents.
With just a bit of planning and by giving concise information to our loved ones, we can all understand and take part in the excitement during the festive season.