Our Patron, President and Vice Presidents
Our Royal Patron, HRH the Duchess of Edinburgh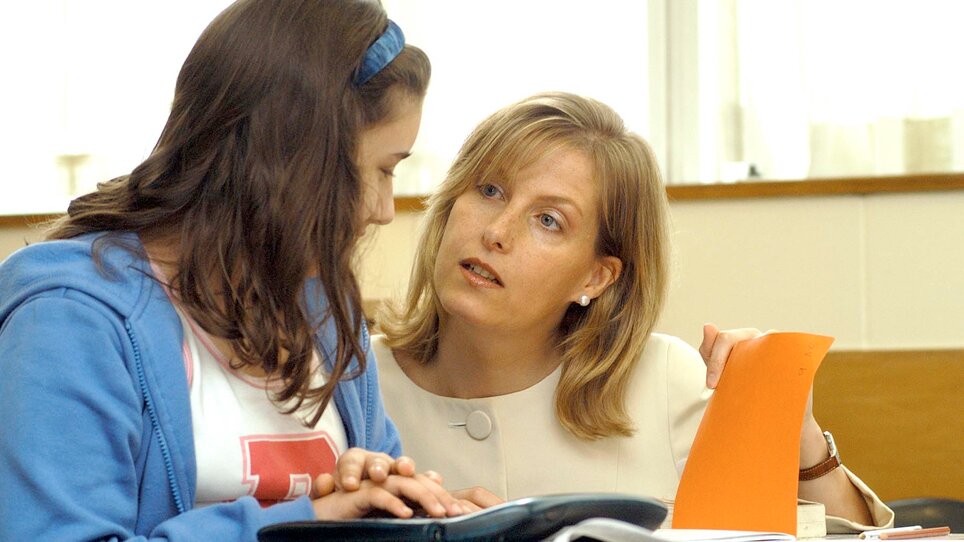 HRH the Duchess of Edinburgh has been our charity's Royal Patron since August 2003. The Duchess took over this role from Her Royal Highness The Princess Royal, who worked actively with our charity for many years.
Our President, Jane Asher
Our President is actress and author Jane Asher.
Jane Asher has been our charity's President since 1997, after serving for many years as Vice President. Jane supports the charity in various fundraising and awareness activities, including attending corporate meetings, opening and visiting our services, helping to organise a variety of events, including the Stars Shine for Autism Christmas Concert, and raising awareness through media work.
Jane Asher is an actress, writer and businesswoman. As well as her work in theatre, film, radio and television she has written more than a dozen books and runs her own business, Jane Asher Party Cakes and Sugarcraft. She has also written three best-selling novels.
Jane regularly appears on television and in feature films, and has also performed many times on stage in the West End and at the National Theatre.
Our Vice Presidents
This is an honorary title, in recognition of people who have made a significant contribution to autistic children, adults or families, our charity or our understanding of autism.
Our Vice Presidents each support us in different ways, according to their experience and backgrounds. They do not sit on our board or have any governance or executive responsibilities.

Lady Astor is the wife of Lord Astor of Hever, Under Secretary of State for the Ministry of Defence; and mother of an autistic daughter with dyspraxia.

Liz was educated at Harrogate Ladies College in Yorkshire. She attended secretarial college and worked as a model before discovering her real vocation, which was teaching young children and children with disabilities in particular.

When her youngest daughter was four, she was diagnosed with autism and dyspraxia. Liz spent the following years learning everything she could about autism whilst also devoting her time to teaching her child to walk, talk, and develop as much as she was able.

Liz climbed Mount Kilimanjaro in Tanzania when she was 49 in aid of the National Autistic Society. Over the ensuing ten years, she led fundraising treks to Outer Mongolia, Machu Piccu and Cuba. She also abseiled down Canary Wharf and ran the London Marathon in 2005, as well as three half-marathons. To date, she has raised over half a million pounds for the National Autistic Society, and many thousands for other national autism-related charities. She has given talks on her experiences and interviews for the press, radio and television.

Liz is also President of the Kent County Agricultural Show and President or Patron of many Kent-based charities.

Liz continues to work with her daughter, who is now 20 and at a special needs college. Her next great challenge is to find a plot, planning permission and funding to build a house for her daughter and two other people with autism in Kent as well as a shop or cafe where they can work.

In 2006, she published her memoir, Loving Olivia: bringing up my autistic daughter, to critical acclaim. Her debut novel Since you went away has been published by Argo Navis. She is busy writing her next novel.
Dr Gillian Baird is a leading expert in autism and Chairman of the British Academy of Childhood Disability.

Gillian is a paediatrician and has led the neuro-disability clinical service at the Newcomen Centre for Developmental Medicine at Guy's Hospital in London for a number of years. The service has a reputation for the work it does with families, and for the way in which a clinical service has been combined with academic research.

Gillian chairs the NICE Guideline Development Group for autistic children and adults. She also has a chair in paediatric neuro-disability at King's College London.

In 2011, Gillian was awarded an OBE for her services to medicine at Guy's and St Thomas' NHS Foundation Trust, London.
Simon Baron-Cohen was Professor of Developmental Psychopathology at the University of Cambridge, Fellow at Trinity College, Cambridge and Director of the Autism Research Centre (ARC).

Simon was a co-author of the first study to show that autistic children have delays in the development of a theory of mind (Cognition, 1985).

He holds degrees in human sciences from New College, Oxford, a PhD in psychology from UCL, and an M.Phil in clinical psychology from the Institute of Psychiatry. He held lectureships in both of these departments in London before moving to Cambridge in 1994.

Simon is author of Mindblindness (1995), The Essential Difference (2003), Prenatal Testosterone in Mind (2005) and Zero Degrees of Empathy (2011). He has edited a number of scholarly anthologies, and has also written books for parents and teachers. He is author of the DVDs Mind Reading and The Transporters, which help children on the autism spectrum to learn emotion recognition. Both were nominated for BAFTA awards.

He has been awarded prizes from the American Psychological Association, the British Association for the Advancement of Science (BA), and the British Psychological Society (BPS) for his research into autism. He has been President of the Psychology Section of the BA, Vice President of the International Society for Autism Research, and received the 2006 Presidents' Award for Distinguished Contributions to Psychological Knowledge from the BPS. His current research is testing the 'extreme male brain' theory of autism at the neural, endocrine and genetic levels.

Simon is an Editor-in-Chief of the online open-access journal Molecular Autism.
Colin Barrow CBE is a former leader of Westminster Council and was Chairman of the National Autistic Society for six years until 2011. Colin is also the parent of an autistic child.

Colin studied Moral Sciences and Law at Cambridge University and upon graduating in 1974 took his first job as commercial manager at the oil and gas engineering company, John Brown Group.

In 1983 Colin joined the Man Group - or as it was then known ED&F Man - to spearhead its entry into the alternative investment market. Colin left to become Chairman of London-based Sabre Fund Management in 1996.

The following year, Colin's lifelong interest in politics led him to become a Conservative member of Suffolk County Council. He also became involved with the National Autistic Society along with a number of other charities. First elected to the National Autistic Society Council in 2003, that year also saw Colin become a trustee and the treasurer for the charity. Colin was Chairman from 2005 and remained in this post until 2011, when he was appointed a Vice President.

In 2002 Colin became a Member of Westminster City Council, and in 2008 he was elected leader - taking on the highest profile local government role in the country. Colin announced his retirement from council leadership in March 2012, to spend more time writing and lecturing.

He is a co-founder of Localis, a think-tank dedicated to strengthening local government, and a director of the Rambert Dance Company, as well as a member of the Centre of Policy Studies. Colin is also Executive Chairman of hedge fund Alpha Strategic.

Colin was made a CBE in 2004 for services to local government.
Baroness Browning is a Conservative peer and parent of an autistic adult son.

She was Minister for Crime Prevention and Anti-Social Behaviour Reduction at the Home Office and is a former Deputy Chairman of the Conservative Party. She served as an MP for Tiverton and Honiton from 1992 to 2010.

As the mother of an autistic son, Baroness Browning has long been a passionate advocate on behalf of autistic people and their families. In 2008 she introduced the 'Ten Minute Rule Bill in Parliament' which paved the way for the Autism Act 2009.

She speaks regularly in the House of Lords on behalf of autistic people, and invokes her personal experience as a parent to call for access to the right support for families around the country.

Baroness Browning is a former Special Councillor of National Autistic Society and has been Vice President since 1997. She is also Patron of Research Autism.
Peter Cullum CBE is Deputy Chairman of Towergate Insurance, Europe's largest privately owned insurance broking and underwriting company. Peter has a son and grandson who are both autistic, and is a major donor to the National Autistic Society.

Peter began his insurance career in 1969 with the Royal Insurance Group and progressed to sales and marketing positions within Commercial Union and ITT London and Edinburgh where he became marketing director in 1988.

At the age of 21, he became the youngest person to pass the Chartered Insurance Institute fellowship examinations.

Peter was named Entrepreneur of the Year in 2005 by Ernst & Young. In 2008, he was awarded title of M&A Deal Maker of the Year, and Management Today's Entrepreneur of the Year.

He is a Fellow of the Chartered Insurance Institute, Associate of the Chartered Institute of Marketing and gained a MSc degree awarded by City University in 1975.

Peter founded the Peter Cullum School for Entrepreneurship in 2006 at Cass Business School and has provided £10 milllion to fund budding entrepreneurs.

The same year he set up The Cullum Family Trust, which is a registered charity to which he has donated over £20 million during the past three years and focuses on numerous charities supporting deprived children, autistic people and local charities in Sussex. Through the Trust he has committed to a transformational education project in Surrey.

In 2007 he was awarded his doctorate in business administration by Cass Business School and in 2010 the CBE for his contribution to business, entrepreneurship and charitable causes. He sits on the Coutts Bank Advisory Board for Philanthropy.

He remains a keen Norwich City football fan.
Simon Cullum works closely with the National Autistic Society through the Cullum Family Trust. He is the son of Peter Cullum and parent to Codey, who is autistic.

Simon works at Towergate Insurance, where he has been for 15 years on continuous service. Simon has worked in Inbound Marketing for the past nine years, after the first six years in various IT support roles.

Simon's five-year-old son, Codey, was diagnosed with autism at the age of two and a half, after his teachers noticed he was experiencing many difficulties in class. Following continuous specialist speech therapy and occupational support sessions, both in and outside of school, Codey has made excellent progress with listening and speaking and is also making great progress socially. Codey attends a GBMAA martial arts academy where the excellent children's programme, delivered by world-class instructors, helps him enormously with listening, concentration and social skills.

Simon is extremely proud of his son's progress which has been nothing short of remarkable, though he has concerns about some aspects of Codey's future, particularly whether he will be able to live independently, learn to drive and find employment. However, with continued appropriate support from both a loving family and various supporting professionals, anything is possible for Codey: he is a very happy boy with some close friends who genuinely enjoy spending time with him.

After noticing a lot of his own characteristics in his son and learning a lot about autism, Simon arranged a diagnostic assessment for himself in July 2012 and was subsequently diagnosed with Asperger syndrome. Simon's diagnosis provided him with a sense of meaning and explanation into many years of unexplained struggles and difficulties and even helped to close a chapter in his life as a child, where he was bullied at school, even by teachers on occasion, and never received the extra support or help which he has seen make such a difference to his son.

Knowing first-hand what a hugely significant, positive difference early intervention and extra support of the right kind can bring to autistic children - and indeed their families - is a real motivator for Simon to become more involved in the world of autism and Asperger syndrome. Simon believes that the understanding and specialist extra support provided to autistic children in schools can, and does, make a significant difference, both at the time and in preparation for their future lives.

Simon is involved in the Cullum Family Trust, which has committed to a transformational education project in Surrey.
Professor John Dickinson acted as Vice Chairman of the National Autistic Society Board of Trustees between March 2010 and October 2011. He and his wife Christine are parents of an autistic daughter.

John studied mathematics at the University of Cambridge. He then pursued research work in theoretical statistics at Leeds University before taking up a lectureship there in management science. His interest in finance and accounting took him to the University of Perth in Western Australia. He qualified as an accountant, returning to the UK after five years to take up Chairs in Accounting and Finance in Stirling and then Glasgow.

As Chairman of Glasgow Business School, John travelled widely throughout Africa and the Far East, teaching, consulting, and presenting research findings at international conferences. His final post was as Principal of what is now the University of Winchester, a position he held for eight years.

John first came into contact with the National Autistic Society through our Helpline, as he and his wife Christine sought a diagnosis for their younger daughter. John and Christine both became members of the charity and now have life membership, along with their daughter.

John was elected to the National Autistic Society's Council in May 2000 and then joined the Board as a trustee in May 2002. As Vice Chairman of the Board and Chairman of the Governance Committee, John led the national recruitment process for the charity's new Chair in 2011.

John has also served as an executive committee member and as General Secretary (from 2004 to 2010) of Autism Europe. As an invited member of the Department of Health's Advisory Group, he assisted with the formulation of the Autism Bill, and has been involved in the continued monitoring of the subsequent Act's implementation. He was also a Trustee of Research Autism from its foundation in 2003, leaving its Board for health reasons. At a local level, he has chaired parent support groups and acted as a Trustee of Hampshire Autistic Society and charities serving carers.

On standing down from the National Autistic Society's Board in October 2011, John was made a lifetime Vice President in recognition of his services to the charity. Since then he has remained closely involved with our current major governance review and the shaping of the proposals for constitutional change. He remains actively engaged with the National Autistic Society on a variety of fronts.
David Downes is a renowned autistic artist and a committed supporter of the National Autistic Society.

David completed an MA in communication design at the Royal College of Art in 1996. He has since worked on a range of high-profile projects, from landscapes and drawings, to a major commission for the BBC. Recently, David was commissioned by the Savoy Hotel to create a picture of the Diamond Jubilee Pageant that now hangs in the foyer of the hotel.

As part of his support for the NAS, David ran the London Marathon in 2009. He has also contributed original artwork for auction at special events, including a depiction of the renovated St Pancras Renaissance Hotel and more recently, a piece showing the London 2012 Olympic Park for the NAS Spectrum Ball in 2012.

David has raised thousands of pounds for the NAS, establishing himself as a valued beneficiary and committed advocate of our work.
Dr Christopher Mason MBE was lead councillor for autism in Glasgow City Council from 2001 until 2012, when he retired after 30 years in local government. After retirement Christopher was appointed Carers' Champion by the City Council, which gives him active involvement with families with autistic family members.

Christopher was a (Liberal) member of Strathclyde Regional Council from 1982 to 1996 and of Glasgow City Council from 1995 to 2012. In Strathclyde he worked for improvements in services to children and families affected by autism and by the time the Regional Council was scrapped in 1996, the first autism units attached to mainstream primary schools had been established.

In 2001 he was invited to chair a City Council task force on the measures needed to make life better for people affected by autism. In 2003 and 2007 he was appointed to chair the Council's standing working group on autism, charged with promoting and monitoring improvements across a range of public services.

The group brought together staff from the Council, the NHS, the three voluntary societies operating in Glasgow, and people who use services. It established sub-groups on the criminal justice system, housing, and employability, which were able to secure improvements in services in their areas of interest.

Christopher was a co-founder of the Strathclyde Autistic Society with Jane Hook MBE and the late Bill Hook, whose daughter is autistic. He also worked with Jane and Bill to start the Buddies' Club, an after-school group for children with disabilities.

Christopher taught politics at Glasgow University from 1966 until 1994 and held a seconded appointment in the Foreign and Commonwealth Office from 1971 to 1973. He is the founder and former Chairman, now President, of the Clyde Maritime Trust; which owns The Tall Ship, an independent museum committed to the preservation and interpretation of the Glenlee (a 19th-century Clyde-built sailing ship). He is also a director of Actual Reality Ltd, a not-for profit organisation that provides outdoor education in Argyll.
World-renowned fashion, beauty and royal photographer John Swannell and his wife Marianne, a former fashion model, are parents of an adult autistic son.

John started his career in photography as an assistant at Vogue Studios and then assisted David Bailey for four years before setting up his own studio.

He spent the next ten years travelling and working for magazines such as Vogue, Harpers & Queen, the Sunday Times and Tatler. During this time he developed his very distinctive, individual style in both fashion and beauty photography.

In 1989 John Swannell had a one-man show at The Royal Academy in Edinburgh, followed in 1990 by an exhibition at The National Portrait Gallery in Edinburgh. In July of the same year The Royal Photographic Society held a retrospective of his fashion work.

In 1993 John Swannell was awarded a Fellowship of The Royal Photographic Society; he was one of the youngest members to have achieved this status at the time. In November 1994, Diana, Princess of Wales personally commissioned John to photograph her together with her sons.

From November 1996 to March 1997 John had a one-man show of his portraits at The National Portrait Gallery in London to celebrate the publication of his book Twenty years on; the portraits are now held in the gallery's archives.

John was commissioned to take the official photographs for HRH The Princess Royal's 40th, 50th and 60th birthdays. The Royal Mail commissioned John to photograph the Earl and Countess of Wessex for a stamp celebrating their wedding and for the celebration stamp marking the occasion of HM Queen Elizabeth the Queen Mother's 100th birthday in 2001.

In 2002 John was one of the photographers asked to photograph HM the Queen to celebrate her Golden Jubliee and the only photographer to be asked to take the official portrait of the Queen for her Diamond Jubilee in 2012. The images were used in the press and exhibited at Windsor Castle.

The National Portrait Gallery in London has over 50 of his photographs, and the Victoria & Albert Museum, The National Portrait Gallery in Edinburgh, The Museum of Modern Art in New York and the Royal Photographic Society now have many of John's works in their permanent collections. He also had an exhibition of Royal photographs at the Clarendon Gallery in Mayfair in 2012.

John has published six books. All the profits for his fifth, I'm still standing, a book of celebrity portraits, went towards helping autistic children.

His book John Swannell nudes, 1978-2006 was published in 2007, and was launched at Hoopers Gallery in London alongside an exhibition of limited edition platinum prints. In March 2008 John had an exhibition at the Chris Beetles Gallery in St James's, London.

Marianne was discovered by Andy Warhol at the age of 19 and spent the next ten years working as a fashion model for top magazines including the English and French editions of Vogue. During her career she also posed for famous photographers including Helmut Newton and David Bailey.

Marianne quit modelling after her son was diagnosed as autistic in the early 90s in order to fully support him. She was one of the founding members of the National Autistic Society's Haringey branch and has been an avid fundraiser for autism ever since.

In 2010, John and Marianne became ambassadors for The Bridge School in Islington, North London, which is a school for autistic children and other special educational needs.

The husband and wife team also collaborated with the National Autistic Society on the Transforming Lives project which aims to improve the transition process between childhood and adulthood for young autistic people. As part of this project they hoped to raise £100,000 for the National Autistic Society.
Lord Touhig is a former MP for the Welsh constituency of Islwyn and an ardent autism campaigner.

From 1995-2010, Lord Touhig was the Labour and Co-operative MP for the Welsh constituency of Islwyn. During this time he served as Parliamentary Private Secretary to then Chancellor Gordon Brown as well as Government Whip, Under-Secretary of State for Wales, Under-Secretary of State for Defence and Minister for Veterans. He sat on the Public Accounts Committee when it published its 2009 report, Supporting people with autism through adulthood.

Before entering Parliament, Lord Touhig spent 27 years in newspapers and publishing. He is a Privy Councillor and a Papal Knight. Since entering the House of Lords, Lord Touhig has been a tireless campaigner on behalf of autistic people, speaking regularly in debates, tabling amendments to legislation and reminding Ministers of their responsibilities to individuals and their families with the condition.

Lord Touhig has also taken a keen interest in championing the National Autistic Society. He has visited services and spoken at the charity's AGM.
Sir Norman Lamb was Liberal Democrat MP for North Norfolk from 2001 to 2019. After serving as a minister in the Department for Business, Innovation and Skills, he was appointed Minister of State for Care and Support at the Department of Health in September 2012 until the end of the Coalition Government in May 2015. As Health Minister, Norman worked to reform the care system and led the drive to integrate health and social care, with a greater focus on preventing ill health. He also challenged the NHS to ensure that mental health was treated with the same priority as physical health, including the introduction of access and waiting standards in mental health for the first time. He was the Liberal Democrat Health spokesperson between 2015 and 2017 and Chair of the Science and Technology Select Committee between 2017 and 2019. In the Queen's 2019 Birthday Honours, Norman received a knighthood with the citation noting in particular his mental health campaigning, with Norman establishing a mental health and wellbeing fund in Norfolk after standing down from Parliament in 2019. Norman has more recently taken on the role of Chair of the South London and Maudsley NHS Foundation Trust.