Ministers join MPs and supporters to mark the Autism Act's 10th anniversary
Published on 05 March 2020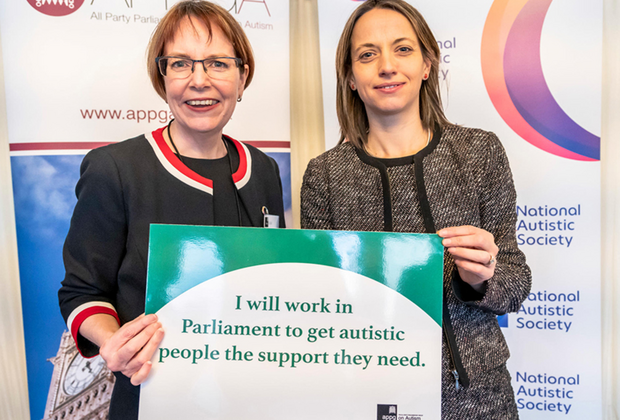 The All-Party Parliamentary Group on Autism (APPGA) held a reception this week (3 March 2020) to celebrate 10 years of the Autism Act and highlight the work that still needs to be done to make society work for autistic people. The MPs who attended pledged to help improve support and services for autistic people and their families.

A recent APPGA inquiry, in which we supported, showed that autistic people and their families in England still aren't getting enough support. The inquiry set out what the Government needs to include in its new autism strategy, which it is set to publish in the spring.

Sadly, Dame Cheryl Gillan MP, Chair of the APPGA, who took the Autism Act through Parliament in 2009, wasn't able to join us. But Catherine West MP, who chaired part of the inquiry, was able to represent the APPGA on her behalf.

Catherine talked about successes since the Act. For instance, nearly every area now has a route to diagnosis and we're seeing greater public awareness of autism. However, support still isn't good enough. Catherine ended her speech with a call for the renewed autism strategy to go further in improving the support available for autistic children and adults.

The Secretary of State for Justice, Robert Buckland, then took to the stage. He spoke passionately about his own experiences as a parent of an autistic child. As Justice Secretary he has responsibility over courts, prisons and probation. Whenever an autistic person comes across those services, however it happens, it's vital they are understood. He spoke about prisons who have worked hard to achieve Autism Accreditation and announced that his department, the Ministry of Justice, is working towards our Autism Friendly Award.

We then heard from two campaigners – Jo and Phillip. They spoke of their experiences as autistic people, putting into sharp focus how poor public understanding of autism once was and what little support was available. Jo made the case for specialist autism teams covering diagnosis for children and adults in every area of the country. This was one of the top recommendations in the APPGA's report. Both Jo and Phillip concentrated on the importance of mental health and getting the right support in your area, near your friends and family.

Our charity's new chief executive, Caroline Stevens, also spoke at the reception. She echoed what an achievement the Autism Act continues to be: having started as a Private Members' Bill – few of which become law – it remains the only legislation dedicated to improving support and services for a specific disability. She stressed that, although there had been significant improvements, more needed to be done, particularly getting autistic people out of inappropriate inpatient mental health hospitals.

Finally, we heard from the new Minister for Care, Helen Whately. She is the minster with responsibility for the Autism Act and the upcoming new autism strategy. The Government is listening, she said. In particular, she emphasised the need to reduce diagnosis waiting times and the need to implement the Oliver McGowan mandatory training for health and social care staff to make sure that they all understand autism.

We will keep campaigning and pushing for the new autism strategy to be as strong as possible, to make sure it sets out what needs to change. The reception was a good opportunity for us to do this with some of the key people from the Government who can make this happen.

You can sign up for our supporter updates to make sure that you don't miss out on opportunities to join the campaign.

Find out more about our Not Enough campaign for better support and services in this news story.